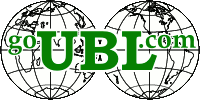 Crane Softwrights Ltd. is a founding member of the http://goUBL.com commercial ecosystem supporting the OASIS Universal Business Language (UBL) standard.
Mr. G. Ken Holman is a co-editor of the UBL 2.0 specification and longtime member of the technical committee. He has contributed to a number of the technical support specifications including the extension specification, the customization guidelines, the naming and design rules and the digital signature specification.
There are two pages of free resources related to UBL on Crane's site:
We can help you with technical training regarding the OASIS UBL distribution and how to work with it. Please see the Practical Universal Business Language Deployment syllabus regarding the distribution and customization, and the Practical Code List Implementation syllabus regarding working with code lists.
Contact us regarding how we can help you with training.
We can help you with facilitating you creating your own customization of UBL for your user community. We can help you with customizing a rendering of UBL documents to HTML or print to match your existing paper documents.
Contact us regarding how we can help you with UBL.
We can help you understand and exploit Tradeshift ... the exciting new worldwide electronic commerce cloud-based platform offering free electronic invoicing.
Please see our page of information regarding our support of Tradeshift for more details, including our offer to deliver in real time at no charge a free introductory web lecture. Learn about the background, features and benefits of using and deploying Tradeshift.
We now offer a hands-on training class in the Tradeshift API for programmers! See our information page for links to the details.
Contact us regarding how we can help you with Tradeshift.
Are you creating a public or private customization of UBL? Can we help you and help your customers?
Contact us regarding how we can help you you're your own customization and deployment.
Do you need help understanding the roles and capabilities of UBL or Code Lists or Tradeshift? Do you need help explaining these important concepts to others?
With a simple Skype connection, for a limited time we are offering to deliver at no charge any of our three related one-hour lectures to any corporate group or user group worldwide.
Contact us regarding when we can deliver our free lectures to you and your colleagues.